Dermatology Associates of Rochester
100 White Spruce Boulevard
Rochester, NY 14623
Phone: (585) 272-0700
Fax: (585) 272-8356
Mon–Fri: 8 a.m.–5 p.m.

Meet Danielle Rawleigh, NP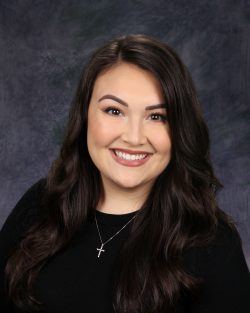 A native of Rochester, Danielle Rawleigh is a nurse practitioner at Dermatology Associates of Rochester whose passion for skin care makes her ideally suited for our practice. She's worked as a Registered Nurse at Strong Memorial Hospital in the Kessler Trauma Center since graduating from St. Fisher College with a Bachelor of Science degree in nursing. During that time, she also earned a Master of Science in Family Nurse Practice from the University of Rochester.
Danielle takes pride in providing patients with an exceptional level of care, doing whatever is needed to meet each person's needs. She values the connections she develops with patients and believes this helps elevate the personal care she provides to each of them. Danielle's love of skin care and aesthetics led her to work as a traveling makeup artist throughout college, and she continues to do makeup for weddings occasionally.
She considers working for Dermatology Associates of Rochester an ideal fit because she can care for patients' medical concerns while still helping them feel beautiful. Danielle is a member of the American Academy of Nurse Practitioners (AANP) and the American Nurses Association (ANA) and is double board certified by the American Academy of Nurse Practitioners (AANP) and the American Nurses Credentialing Center (ANCC)
Volunteering is an important part of Danielle's life. While at St. Fisher College, she was a service scholar and volunteered for Foodlink, a nonprofit organization providing food to food pantries, and St. Joseph's Neighborhood Center. Danielle also helped provide summer sports training camps for economically disadvantaged youth in Kingston, Jamaica, during a service trip as an undergrad.
Outside of work, Danielle enjoys spending time with her family, friends, and 2 French bulldogs. She loves to cook and bake, and she goes to concerts whenever possible.
Education & Training
St. Fisher College
Bachelor of Science in Nursing
Rochester, NY
University of Rochester
Master of Science in Family Nurse Practice
Rochester, NY
If you'd like to meet with Danielle or any of our providers, request a consultation using the simple online form or call Dermatology Associates of Rochester at (585) 272-0700 to schedule an appointment.

Specializing in Concierge Treatment Designed
for You
We established Dermatology Associates of Rochester to provide quality, compassionate medical and cosmetic skincare and plastic surgery services in a boutique setting where patients felt like part of an extended family. Our board-certified dermatologists, plastic surgeon, nurse practitioners, and registered nurses work together with our professional staff to ensure you enjoy an exceptional experience each time you visit.
Meet the Team
Back to Top