Dermatology Associates of Rochester
100 White Spruce Boulevard
Rochester, NY 14623
Phone: (585) 272-0700
Fax: (585) 272-8356
Mon–Fri: 8 a.m.–5 p.m.

Skin Search
A partner with Dermatology Associates of Rochester, Skin Search leads the industry in conducting research for dermatology (skin, hair, and nails), rheumatology, allergy, and immunology.  Led by board-certified investigators/physicians and assisted by nurses certified in conducting clinical research, our team investigates medications, devices, and procedures in an ethical, responsible manner to provide patients with therapeutic possibilities for the future.
About Skin Search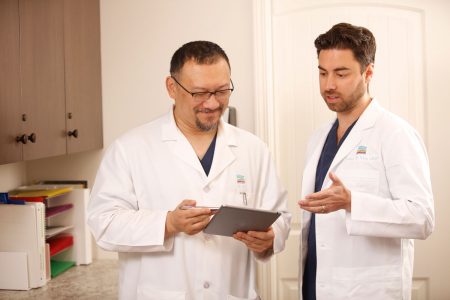 Located in Rochester, NY, Skin Search conducts Phase I, II, III, and IV FDA-approved clinical trials that focus on dermatology, rheumatology, allergy, and immunology.  Choosing to participate in our clinical trials gives volunteers the opportunity to help others benefit from new medications and therapies. Our research volunteers get an up-close look at cutting-edge treatments and technologies.
Skin Search partners with Dermatology Associates of Rochester and offers the same level of extraordinary skincare received by all our medical dermatology and cosmetic dermatology patients.   Research volunteers are compensated for expenses, are not required to provide health insurance, and are not charged for the care they receive. To understand more about clinical trials and volunteering, read the answers to common questions on our blog.
Clinical Research Participation
Our research team is passionate about helping advance medical science. We continuously recruit volunteers to participate in clinical studies and the experience can be very rewarding. Our research participants have access to private, convenient, comfortable facilities and a staff of experienced, industry recognized professionals. Most of the time volunteers are compensated for time and/or travel expenses.
There are many safeguards in place to ensure patient safety. Our research is overseen by the Food and Drug Administration, and independent review boards that verify minimal risk to volunteers and confirm proper execution of volunteers' informed consent. Interested participants are encouraged to read our blog post for answers to commonly asked questions.
You can learn more about research trials at ClinicalTrials.gov and sign-up for a study using the form below or by requesting a consultation.
"I heard about Skin Search through a friend of mine and wanted to participate in a clinical research study to be treated for my condition. My experience with the Skin Search team was excellent, and they were very helpful in teaching me about the process because I didn't know much about clinical trials before working with them. If people are skeptical about participating, my first response would be that it's easy, and the team is excellent." 

Dante

Dedicated to Enhancing the Future of Dermatology
Our research team at Skin Search includes investigators and research coordinators with decades of combined experience. Led by Medical Director and principal investigator Dr. John H. Tu, our team has been involved with research that led breakthrough treatments and products now commonly used worldwide.
Meet the Skin Search Team
Patient Resources
Men, women, and children interested in volunteering for a Skin Search clinical trial can contact us at (585) 697-1818 or email [email protected]. Transportation to our research facility is available through Uber and Lyft.  RTS has stops near Skin Search. You can check the schedule here.
Learn More
Use the links below to learn about our current studies, our team, and our research facility.
Back to Top