Dermatology Associates of Rochester
100 White Spruce Boulevard
Rochester, NY 14623
Phone: (585) 272-0700
Fax: (585) 272-8356
Mon–Fri: 8 a.m.–5 p.m.

ProFractional™ Laser Therapy
ProFractional™ Laser Therapy
Our specialists use the versatile ProFractional laser to create customized treatment packages that address multiple skin concerns, such as uneven skin texture and acne scars, in a single procedure. ProFractional laser skin resurfacing treatments at our Rochester, NY, practice on their own can dramatically improve the appearance of wrinkles and scars with little downtime.
Expertise Makes a Difference
Customizing laser skin resurfacing treatments to ensure they're performed with the necessary precision requires choosing specialists with the experience to avoid unwanted results. Our board-certified physicians and nurse practitioners also have the training to create specialized treatment plans based on each patient's skin type, condition, and aesthetic goals.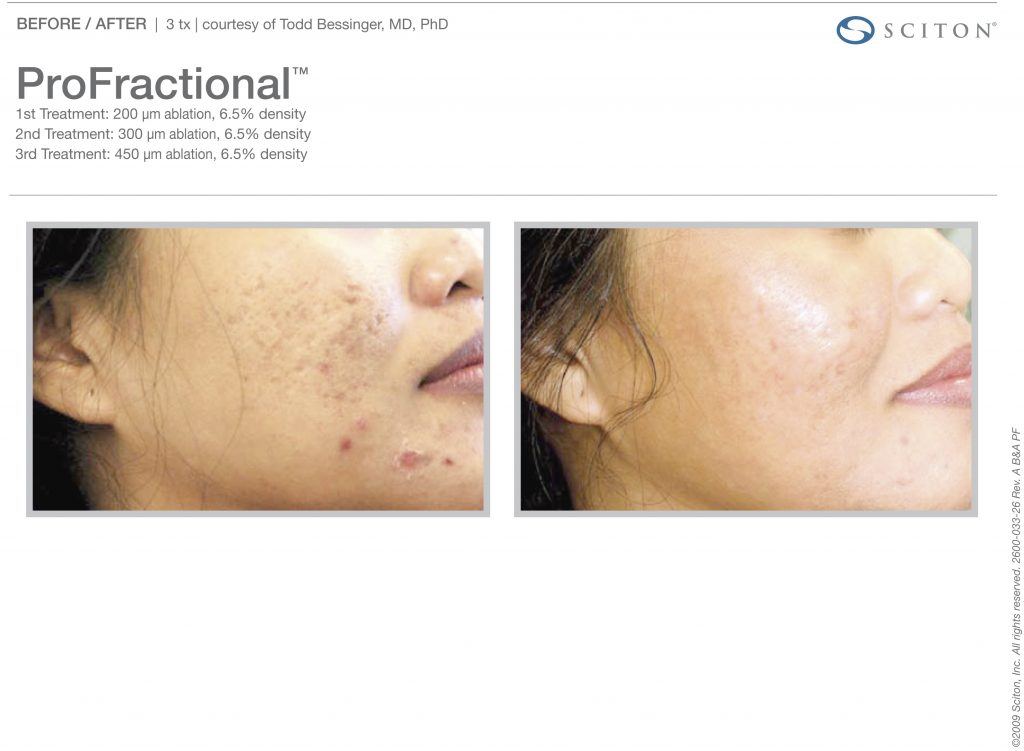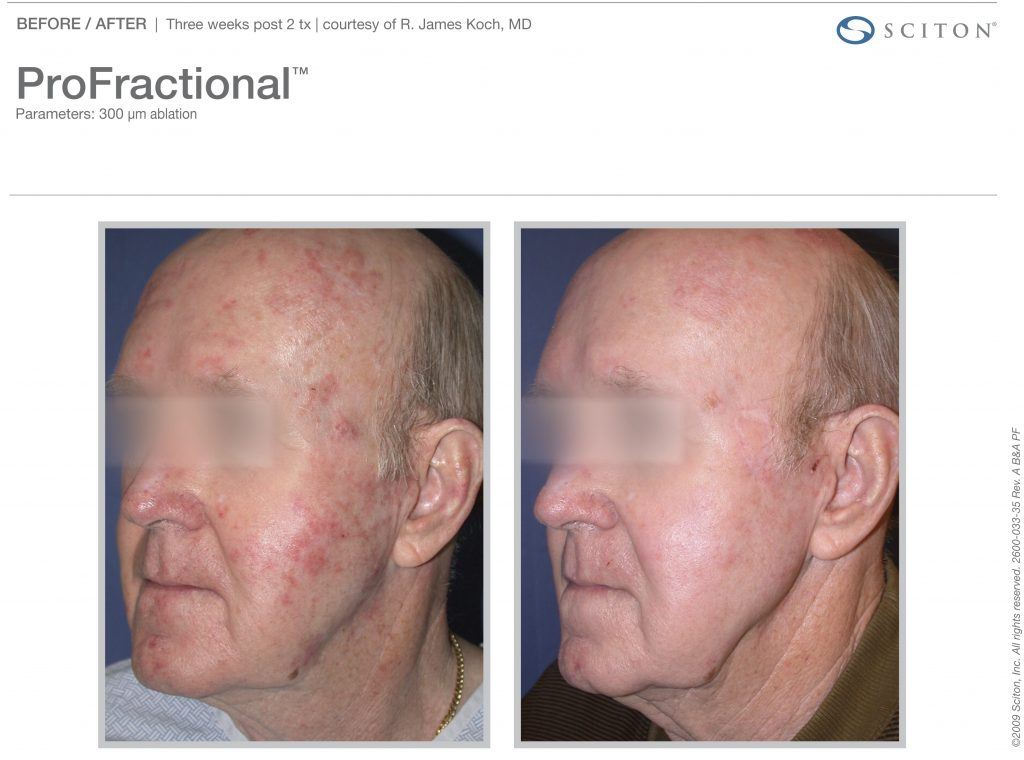 How ProFractional Laser Treatments Work
Laser resurfacing has emerged as the most effective way to treat a wide variety of skin conditions. The ProFractional treatment creates thousands of microscopic channels in the skin using laser energy. These tiny channels are surrounded by areas of healthy, untreated skin, which invigorate the body's natural healing process. The treated areas stimulate production of new collagen, giving the skin a plumper appearance and smoothing out wrinkles, lines, scars and other irregularities. We can control the depth of the channels, and a computer-guided scanner produces the ideal beam pattern for uniform, rapid treatment and consistent results.
Most patients undergo a series of 1 to 4 ProFractional treatments, spaced 3 to 6 weeks apart, depending on their needs. We develop a personalized treatment plan for you based on the level of improvement you desire.
How Much Does ProFractional Laser Skin Resurfacing Cost in Rochester, NY?
The cost of laser skin resurfacing treatments such as the ProFractional procedure depends on several factors, including the extent of the treatment and the number of sessions needed. We customize treatments to address the specific needs of each patient. The price of your skin resurfacing procedure can be determined after consulting with one of our providers.
Combining Treatments
Because we have multiple treatment modalities at Dermatology Associates, we can combine them to treat different skin conditions at once. For example, combining Halo™ Pro for resurfacing with ProFractional to address acne scarring benefits patients directly because they pay a single price and only have to schedule time off from work or other activities a single time. These treatments can address a range of skin conditions, including:
Wrinkles and fine lines
Post-traumatic scars
Acne scars
Age spots
Sun spots
Freckles
Aging and sun-damaged skin
Additionally, we can combine laser treatments with other types of procedures to create an integrated, fully-customized treatment plan, such as using dermal fillers or BOTOX® Cosmetic along with laser skin treatments. Because these are all non-invasive or minimally invasive procedures, the downtime is limited when compared to surgical options that address the same concerns.

Specializing in Concierge Treatment Designed
for You
We established Dermatology Associates of Rochester to provide quality, compassionate medical and cosmetic skincare and plastic surgery services in a boutique setting where patients felt like part of an extended family. Our board-certified dermatologists, plastic surgeon, nurse practitioners, and registered nurses work together with our professional staff to ensure you enjoy an exceptional experience each time you visit.
Meet the Team
Natural-Looking Results
Dermatology Associates is a results-focused practice, and our specialists determine during the consultation process if a patient is a good candidate for a procedure. We'll recommend treatment alternatives or even refer them to another physician who can provide the desired results.
Whether patients come to us wanting to minimize signs of aging, reduce acne scars, or improve the skin's texture and tone, our goal is to create results that look both dramatic and natural. We provide the best treatment options available to ensure patient safety and satisfaction.
Women and men considering laser skin resurfacing travel from Brighton, Irondequoit, Henrietta, and throughout the Rochester, NY, metropolitan area to Dermatology Associates of Rochester for ProFractional and other laser skin rejuvenation treatments. Request a consultation with one of our providers using the online form or call us at (585) 272-0700 to schedule an appointment.
Back to Top