Dermatology Associates of Rochester
100 White Spruce Boulevard
Rochester, NY 14623
Phone: (585) 272-0700
Fax: (585) 272-8356
Mon–Fri: 8 a.m.–5 p.m.

Current Studies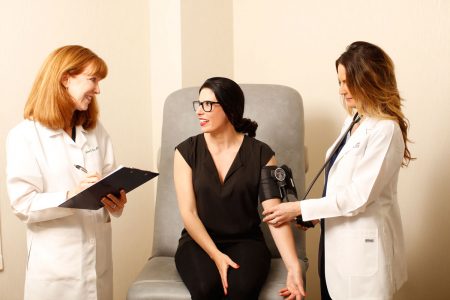 Skin Search conducts dermatology research clinical trials in Rochester, NY, for new treatments for various skin conditions. Choosing to participate in a research study gives patients the opportunity to help others benefit from new medications or therapies. Our research patients get an up-close look at dermatology innovations.
Skin Search partners with Dermatology Associates of Rochester and offers the same level of extraordinary care received by all of our medical dermatology and cosmetic dermatology patients. Research participants aren't required to provide health insurance information and are not charged for the care they receive. Our research volunteers may be compensated by the Sponsor for time and/or travel expense. To understand more about participating in a clinical research trial, read the answers to common questions on our blog.
Currently Enrolling Studies
We are currently recruiting volunteer participants for the following conditions:
Psoriasis
Acne
Psoriatic arthritis
Itching associated with psoriasis
Atopic Eczema
Rosacea
Alopecia
Frequently Enrolling Studies
(Volunteer inquiries will be added to our database and contacted when opportunities are available.)
Athlete's Foot
Toenail fungus
Hyperhidrosis
Atopic eczema
Rosacea
Hair loss
Psoriasis
Acne
Cosmetic
Device (i.e. laser)
Common warts
To learn more about clinical trials at Skin Search, contact us using the form below, call our Rochester, NY, facility at (585) 697-1818, or email [email protected].

Dedicated to Enhancing the Future of Dermatology
Our research team at Skin Search includes investigators and research coordinators with decades of combined experience. Led by Medical Director and principal investigator Dr. John H. Tu, our team has been involved with research that led breakthrough treatments and products now commonly used worldwide.
Meet the Skin Search Team
Back to Top