Dermatology Associates of Rochester
100 White Spruce Boulevard
Rochester, NY 14623
Phone: (585) 272-0700
Fax: (585) 272-8356
Mon–Fri: 8 a.m.–5 p.m.

Dermal Fillers
Some of the earliest signs of aging occur when our faces begin losing volume, creating lines and creases. Injectable fillers such as JUVÉDERM®, Restylane®, and other wrinkle removal treatments offered at our Rochester, NY, practice produce long-lasting results that look natural and require little to no downtime.
Expertise Makes a Difference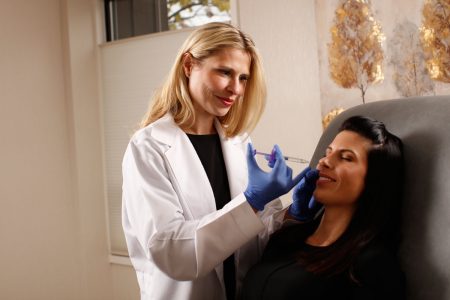 Injectable fillers are among the most popular cosmetic treatments available but getting safe and effective results requires choosing providers with advanced training and skill. Our board-certified dermatologists and certified nurse practitioners have the expertise to know which products are best suited for specific areas of the face and the needs of our patients.
JUVéDERM VOLUMA® XC Before & After Photos
Photos courtesy of Allergan. Keep in mind that each patient is unique and your results may vary.
Your Options
We offer a wide range of injectable fillers, giving our providers the versatility to address each patient's unique concerns. We can tailor your treatment based on your cosmetic goals, and our injectors use their expertise to recommend the best filler for you. Fillers are made with substances that are found naturally in the body. They're not permanent, and the body safely absorbs them. Most fillers, such as JUVÉDERM and Restylane products, are made using hyaluronic acid (HA). Hyaluronic acid is a molecule that's able to retain moisture, which helps the skin look more youthful.
You Deserve a Reward
Earn points every time you get many of our facial aesthetic treatments and turn those points into savings. Join the Allē℠ and Aspire Galderma Rewards® programs and begin saving immediately. It's free and registering is quick and easy. You can redeem Allē℠ points on some of our most popular Allergan treatments and products, including BOTOX® Cosmetic and JUVÉDERM® fillers. Redeem Aspire points on Restylane® fillers, Dysport®, and Sculptra® Aesthetic collagen enhancer.
Here are the fillers offered at Dermatology Associates of Rochester (virtually all fillers are pre-mixed with a local anesthetic to minimize discomfort during the actual injections):
JUVÉDERM
The JUVÉDERM family of products includes:
Ultra XC: One of the most popular options for lip fillers. Adds volume to lips, including when your lips have thinned with age. Results last up to a year.
VOLUMA® XC: Approved by the FDA to restore age-related volume loss in the cheeks. It's injected deeper than most other fillers and produces results that can last up to 2 years.
VOLLURE™ XC: The most recent addition to the JUVÉDERM family. VOLLURE creates a smoother appearance by softening moderate to severe wrinkles, including "parentheses" around the mouth. Results can last up to 18 months.
VOLBELLA® XC: Specifically formulated to enhance lip volume and smooth the fine lines around the mouth. Results last up to a year.
JUVéDERM VOLLURE™ XC Before & After Photos
Photos courtesy of Allergan. Keep in mind that each patient is unique and your results may vary.
Revance® TEOXANE RHA
TEOXANE's RHA® collection of fillers have been used in Europe for years but only received FDA approval for use in the U.S. in early 2020. These fillers are also formulated with hyaluronic acid but are unique in the way they adapt to your changing facial expressions by stretching as the skin moves. TEOXANE fillers treat age-related wrinkles and folds in various areas of the face.
TEOXANE products come in 3 different formulations:
RHA 2: We recommend RHA 2 injections to minimize the appearance of moderate dynamic wrinkles and smile lines. Additionally, RHA 2 is an excellent option for lip augmentation because it stretches when you smile or laugh, ensuring your lips still feel natural.
RHA 3: Moderate to severe dynamic wrinkles require RHA 3 injections to restore volume. These wrinkles include deep nasolabial folds and shadows around the chin and mouth. RHA 3 is also recommended for younger patients who still retain some facial volume.
RHA 4: Patients who need to restore volume and contour larger areas of the face such as the cheeks, benefit from injections of RHA 4. These injections actually create a lifted appearance that looks and feels natural. We also recommend RHA 4 for women and men with more prominent folds around the mouth.
Restylane
Lyft: Addresses age-related volume loss in the mid-face area, especially the cheeks. Lyft can also boost nasolabial folds and other moderate to severe facial folds. Results last up to 12 months.
Silk: This smooth gel filler enhances lips and smooths lines around the mouth. It's injected with an ultrafine needle to ensure precision treatments. Results last between 6 and 12 months.
Refyne™: This "next-generation" filler softens nasolabial folds and marionette lines — often called "laugh lines" — to restore a more youthful appearance that still looks natural. Approved by the FDA in 2016, Refyne results can last up to 12 months.
Defyne™: Deeper lines require a filler that's specifically created to address these concerns. Defyne works without limiting your range of facial emotions. Results last up to 12 months.
BELOTERO BALANCE®
This is another hyaluronic acid filler, but it uses a slightly different formula to restore volume in most areas of the face. Its versatility enables injectors to use it for concerns ranging from nasolabial folds to tiny lip lines that require a soft, cohesive gel. Results can last 6 months or more.
Sculptra® Aesthetic
Even though Sculptra is often called a filler, it restores volume by gradually stimulating the production of new collagen. It's formulated using poly-L-lactic acid (PLLA), and patients usually require 2 or 3 treatments scheduled over about 4 months to get the best outcome. PLLA microparticles are absorbed and trigger new collagen. Results can last 2 years.
Sculptra is unique among injectable fillers because it can be used to safely augment the buttocks. Sometimes referred to as a "nonsurgical butt lift," this approach doesn't require any anesthesia or downtime, making it a great choice for busy women and men who want a shapelier derriere without invasive butt lift surgery.
Good candidates for this procedure are people who would like a relatively subtle improvement in the lift or shape of the buttocks. Although this approach is much less invasive than surgery, you should still be in good overall health and able to commit to multiple treatment sessions because the results of the Sculptra butt lift are gradual.
Your dermatologist uses lidocaine to keep you comfortable during the procedure and marks the areas where the product will be administered. Your doctor then carefully adds the product using a needle or microcannula. The entire treatment takes about an hour, and full results can be achieved after a series of 2 to 3 appointments. After each treatment, you'll be able to safely return to the majority of your normal activities immediately. Your results can last for years.

Specializing in Concierge Treatment Designed
for You
We established Dermatology Associates of Rochester to provide quality, compassionate medical and cosmetic skincare and plastic surgery services in a boutique setting where patients felt like part of an extended family. Our board-certified dermatologists, plastic surgeon, nurse practitioners, and registered nurses work together with our professional staff to ensure you enjoy an exceptional experience each time you visit.
Meet the Team
Fillers or BOTOX® Cosmetic?
The answer is often both. BOTOX injections (along with XEOMIN® and Dysport® treatments) address different types of wrinkles than those corrected by fillers. We use fillers for wrinkles that result from volume loss and sun exposure. BOTOX, on the other hand, smooths wrinkles caused by a lifetime of changing facial expressions (called dynamic wrinkles) by temporarily immobilizing the muscles that control those movements.
Combining the injectable treatments during a single appointment produces more comprehensive results.
Common Questions
What's the best age to start getting dermal fillers?
Dermal fillers are FDA-approved for individuals 21 and older. Your body starts to produce less collagen in your mid-20s, so many younger patients use injectables to preemptively fight the signs of aging. Fillers are also useful for those in their 40s or 50s or older as they smooth out wrinkles and add youthful volume to the skin. There is no "best age" to start using dermal fillers; you can begin treatment whenever you decide you're ready.
Are dermal fillers safe?
Dermal fillers are a safe, FDA-approved treatment, but side effects can occur. Common issues include redness, bruising, or skin sensitivity around the injection area. Have a skilled injector perform your treatment for the best possible results.
What is a liquid rhinoplasty or a liquid facelift?
Liquid rhinoplasty and a liquid facelift are nonsurgical approaches to facial surgery. The procedures use dermal fillers to temporarily address issues like a dorsal hump, sagging cheeks, and more. Liquid rhinoplasty and facelift results don't last as long as traditional surgery. However, they can benefit those who wish to avoid going "under the knife" or want to experiment with a new look before committing to permanent treatments.
What if I don't like the results? Can my fillers be removed?
Yes, you can remove most dermal fillers if you don't enjoy your results. Hyaluronic acid-based fillers—such as JUVÉDERM or Restylane—can be "undone" and dissolved with an injection of an enzyme called hyaluronidase. Certain fillers, such as Sculptra, use a different base and must be naturally metabolized by the body.
Are dermal filler treatments painful?
Like any injection, you may experience a small "pinch" as the needle is being inserted. However, most products are pre-mixed with a local anesthetic to minimize any discomfort.
Women and men looking for injectable wrinkle removal treatments come from Brighton, Irondequoit, Henrietta, and throughout the Rochester, NY, metropolitan area for dermal filler injections at Dermatology Associates of Rochester. Request your consultation using the easy-to-use online form or call us at (585) 272-0700 to schedule an appointment.
Back to Top