Dermatology Associates of Rochester
100 White Spruce Boulevard
Rochester, NY 14623
Phone: (585) 272-0700
Fax: (585) 272-8356
Mon–Fri: 8 a.m.–5 p.m.

Dermatology Associates of Rochester

,
Phone: (585) 272-9346
Fax: (585) 272-7592
Mon: 9 a.m.–5 p.m.
Tues, Wed, Thurs: 9 a.m.–7 p.m.
Fri: 9 a.m.–6 p.m.
Sat: 8 a.m.–12:30 p.m.
*Or after last appointment

Dermatology Associates of Rochester

,
Phone: (585) 697-1818
Fax: (585) 697-0822
Mon–Fri: 8 a.m.–5 p.m.

CoolSculpting® Elite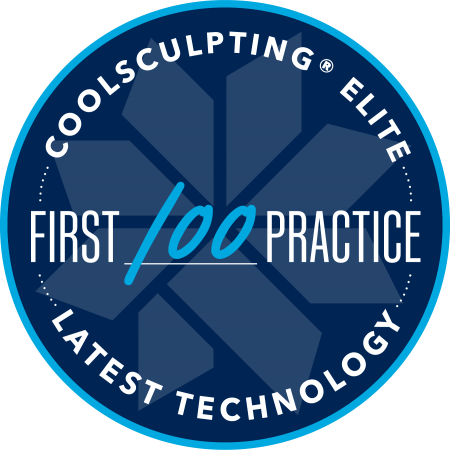 Our Rochester dermatology practice offers CoolSculpting for women and men who exercise and eat right but still can't shed the stubborn fat that creates unwanted bulges. You know the areas, "muffin tops" and "love handles" are common treatment targets, along with the thighs and upper arms.
Dermatology Associates of Rochester was the first certified CoolSculpting practice in the Rochester area—we've performed more than 8,100 treatments. We're also proud to be the first practice in Rochester to offer the next-generation CoolSculpting Elite system. If you want the most qualified CoolSculpting provider serving greater Rochester, including Brighton, Irondequoit, Henrietta, and surrounding areas, request your free consultation today using our online form, or call us at (585) 272-0700 to schedule an appointment.
What Is CoolSculpting?

CoolSculpting is a completely non-invasive treatment that, unlike other nonsurgical body contouring procedures, requires virtually no downtime and no anesthesia. It works by lowering the temperature of fat cells until they begin to die. The controlled-cooling process is cleared by the FDA for nonsurgical fat reduction and targets fat that resists diet and exercise.
CoolSculpting works because fat cells naturally freeze at a higher temperature than other tissues, which means the procedure only impacts the targeted fat cells and is safe for surrounding skin, muscle, and other tissues.
Treatment times vary depending on the areas being targeted, but most of our patients can return to work or their normal daily activities immediately after leaving our office. Our team includes 9 certified CoolSculpting providers–including 5 who have completed the prestigious CoolSculpting University training.
Why Choose Us for CoolSculpting?
Our practice is established as the leading CoolSculpting provider in the Rochester area. We have:
Performed CoolSculpting for more than 10 years and are the 1st certified CoolSculpting practice in the region.
3 CoolSculpting devices, which means we can treat up to 6 areas at the same time, allowing us to complete treatment of multiple areas in as little as 35 minutes.
With a full range of CoolSculpting applicators, we can craft a treatment to meet your specific needs.
Board-certified physicians supervising all treatments.
Earned distinction as a preceptor site, with other practices across the U.S. sending providers here to learn CoolSculpting best practices.
One of the nation's key opinion leaders on CoolSculpting, Dr. Josh Weitz.
CoolSculpting® Before & After Photos
Keep in mind that each patient is unique and your results may vary.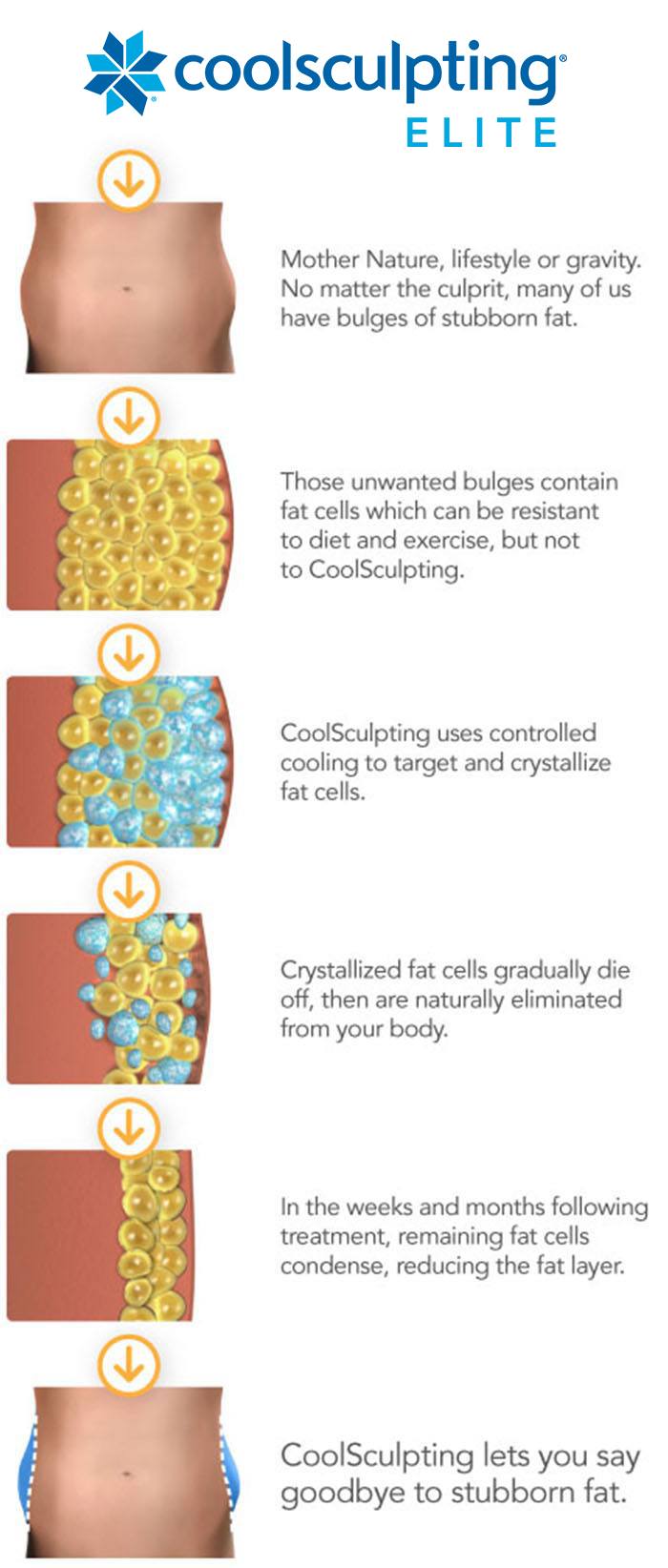 "Freezing" Away Fat
The new CoolSculpting Elite technology treats 18% more surface area than the original system. The CoolSculpting Elite device, treating 18% more surface area than the original system, uses a technology called cryolipolysis to target, freeze, and ultimately trigger the breakdown of fat cells. Once frozen and broken down, fat cells are removed from the body through its natural metabolic process.
Does CoolSculpting Hurt?
Because the treatment is non-invasive, there's no need for an anesthetic. Some patients say there's a tingling sensation during the first few minutes of the procedure but no discomfort after that. In fact, many people scroll through their phones, read, or simply relax during the CoolSculpting procedure.
How Much Does CoolSculpting Cost in Rochester, NY?
The cost of a CoolSculpting Elite treatment session varies depending on the area or areas being targeted and the number of treatments required to achieve the desired results. The training and experience of CoolSculpting providers is another factor that influences the treatment price. Our team includes 9 certified CoolSculpting providers–including 5 who have completed the prestigious CoolSculpting University training. After your consultation, we'll provide a detailed price quote for your treatment.
Who Can Benefit?
Ideal CoolSculpting candidates are already at or near their ideal weight but need help getting rid of stubborn bulges that make them self-conscious. CoolSculpting is not a weight loss procedure. It targets localized pockets of excess fat and is designed specifically to treat these areas:
Hips
Thighs
Flanks
Upper & lower abdomen
Under the chin
Upper arms
Banana roll
Back fat
Bra fat
CoolSculpting vs. Liposuction
Both CoolSculpting and liposuction effectively reduce areas of diet-resistant fat. These procedures have some important differences:
Does CoolSculpting Tighten the Skin?
CoolSculpting is not a skin tightening treatment. For those lacking skin elasticity, removing subcutaneous fat with CoolSculpting may create the appearance of loose or saggy skin. Your provider may recommend a follow-up treatment with SkinTyte™ nonsurgical skin tightening. SkinTyte firms mildly loose skin using infrared light that stimulates collagen production.
Alternatives to CoolSculpting
Depending on the area of concern, some patients are better candidates for another procedure, such as KYBELLA®, which can reduce the look of a double chin. If your concern involves skin laxity around the chin and jawline rather than fat, Ultherapy® is a good nonsurgical option. Patients concerned about cellulite benefit from Avéli™ treatments. When you come in for your initial consultation at Dermatology Associates, your provider can help you decide if CoolSculpting is right for you.
Use our online form to request an appointment with our CoolSculpting expert today, who can help you decide if CoolSculpting is right for you.
Introducing CoolSculpting Elite
We are proud to be the first practice in Rochester to offer CoolSculpting Elite. This innovative new machine is Allergan's next-generation of fat reduction devices.
CoolSculpting Elite freezes away fat with 7 newly designed applicators featuring an 18% larger cooling area. The new fit complements the body's natural curves and provides more comfort during treatment. CoolSculpting Elite machines can treat 2 areas at the same time, allowing you to achieve your body contouring results even faster. Our practice offers 3 fully equipped Elite machines—targeting up to 6 areas—so we can treat multiple patients at a time in our state-of-the-art CoolSculpting suite.
CoolSculpting Elite Applicators
CoolSculpting Elite's fleet of new applicators is designed to fit your natural curves and treat a larger surface area. Each handheld device is part of the Curve, Surface, or Flat series and helps treat different parts of the body. Our providers can customize your CoolSculpting treatment to address specific concerns using a combination of devices.
Curve Series Applicators: When treating the lower abdomen, for example, a Curve series applicator uses vacuum pressure to draw the tissue into its C-shaped cup, perfectly fitting your abdomen's curved contours. Curve series applicators are most effective for treating a double chin, excess fat under the jawline, banana rolls, back fat, bra fat, flanks, and abdomen.
Flat Series Applicators: For the inner thighs, upper arms, or other areas where there are vertical bulges of pinchable fat, a Flat series applicator is used. These applicators conform to the area's straighter contours, maximizing your results.
Surface Applicator: The Surface applicator is reserved for those flatter areas where you can't easily pinch fat, such as the upper abdomen and the outer thigh area.
Whatever applicator we use, the CoolSculpting process itself remains the same. Your provider will explain the treatment process and show you which devices are best for your needs.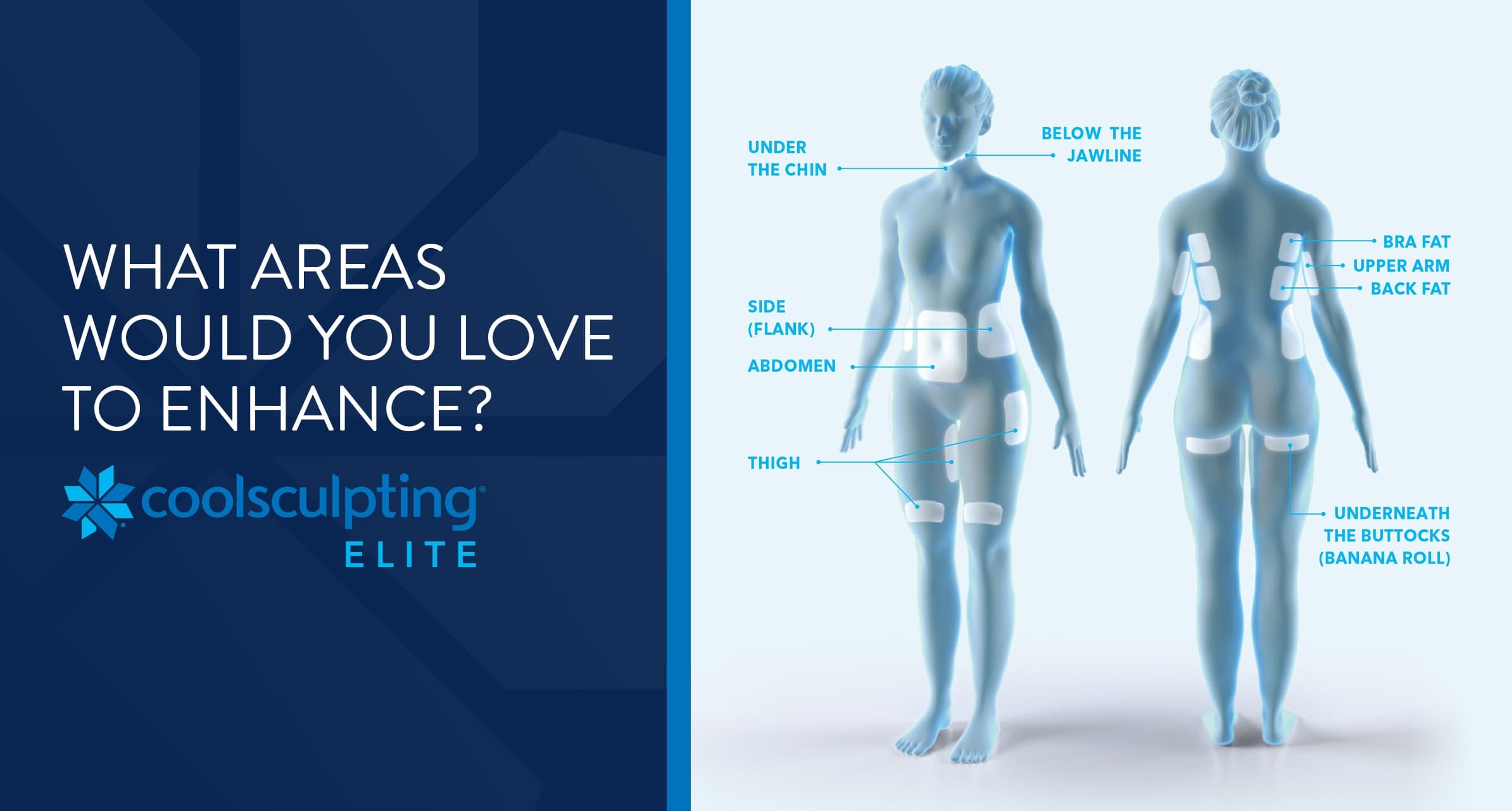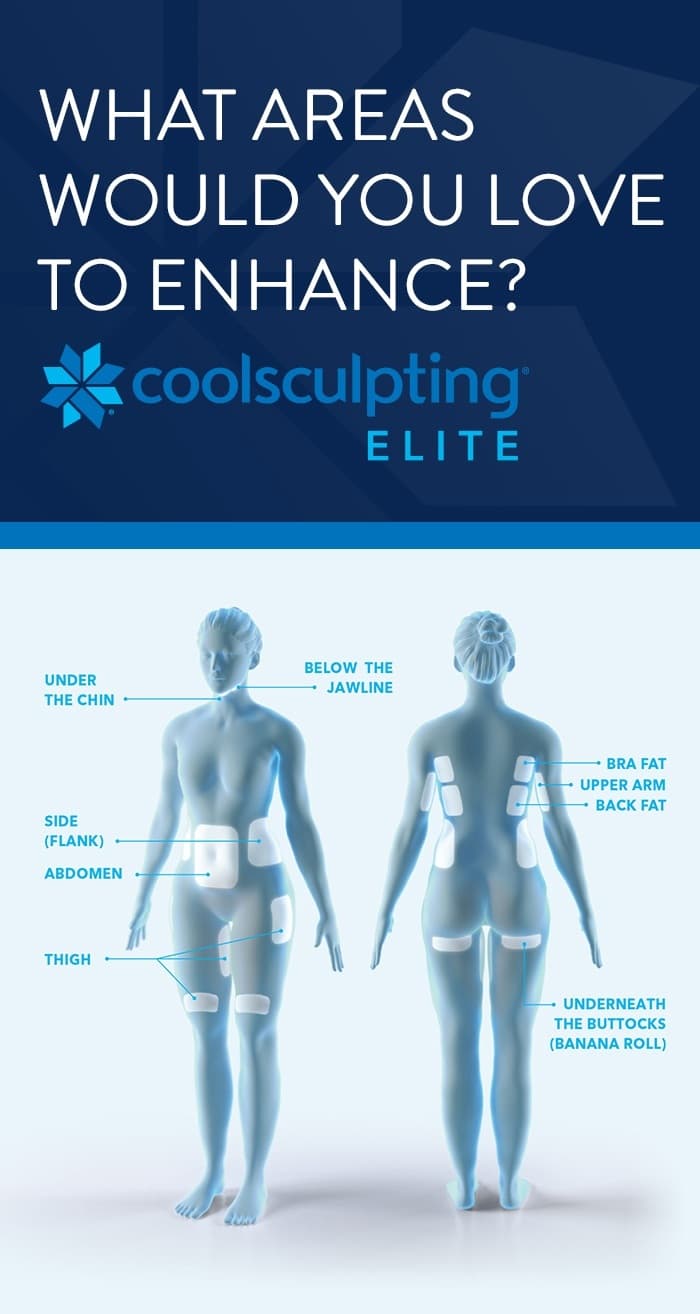 Combining CoolSculpting With CoolTone™
Many of the women and men seeking to reduce fat also want to improve their muscle tone. CoolTone is a companion treatment that we can package in a single appointment. This innovative procedure uses magnetic energy to stimulate involuntary muscle contractions in the abdomen, buttocks, and thighs to increase muscle tone.
Results
Immediately after your appointment, it's normal for the treatment area to appear red and slightly swollen. Some lingering soreness is also expected, but not enough to interrupt your daily activities. Because the fat cells die over time, it typically takes several weeks to a few months to see complete results. In some cases, patients can benefit from a second CoolSculpting treatment to reach their goals.
CoolSculpting FAQ
Does CoolSculpting really work?
CoolSculpting has been proven to reduce fat by up to 25% in treated areas in a clinical study conducted by the manufacturer in 2009. In 2015, an independent study published in Plastic and Reconstructive Surgery showed that CoolSculpting reduced fat cell volume in treated areas by 14.7 to 28.5%.
Is the treatment safe?
When performed by any of our CoolSculpting-certified providers, you can be confident that the treatment is safe. The FDA-cleared technology includes safeguards that automatically monitor the skin's temperature and level of cooling.
Are CoolSculpting results permanent?
Fat cells that are frozen and die are naturally flushed out of the body. If you maintain your weight, your results will last indefinitely.
Does CoolSculpting work on belly fat?
Yes! CoolSculpting Elite's C-shaped applicators fit snugly over belly fat for increased effectiveness and more even results than original applicators.
How much fat can a treatment remove?
CoolSculpting doesn't remove fat like liposuction. Instead, treated fat cells are gradually flushed out of the body. Patients don't lose a significant amount of weight, but most lose inches where it matters most.
CoolSculpting Elite attracts people from throughout the Rochester area to Dermatology Associates because of the expertise of our providers. You can request a consultation using the simple online form or call our office at (585) 272-0700 to schedule an appointment.