Dermatology Associates of Rochester
100 White Spruce Boulevard
Rochester, NY 14623
Phone: (585) 272-0700
Fax: (585) 272-8356
Mon–Fri: 8 a.m.–5 p.m.

Facials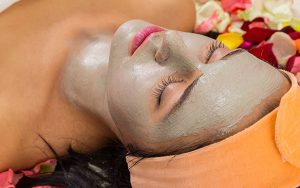 A facial at our Rochester clinic can be a truly transformative experience. Our DermaSpa features licensed aestheticians who offer innovative options for cleansing and exfoliating your skin and creating a refreshed and healthy appearance. Our aesthetic specialists have experience performing facials on all skin types and can recommend the ideal treatment for your goals.
Our Menu of Facials
Browse our menu of facials to learn about what DermaSpa offers before scheduling your consultation.
Deep Pore Cleansing Facial
Not all pores are clogged equally. A deep pore cleansing facial is personalized by our aestheticians to exfoliate the skin and open pores. They manually extract blackheads, whiteheads, and other skin impurities. We also use high-frequency energy to eliminate subdermal (under the skin) bacteria and to promote a calming sensation. Finally, your aesthetician applies a customized mask that's designed for the type and condition of your skin. We often recommend this facial for patients with oily skin that's prone to acne.
Elite Polisher Facial
Combine the best of what our facials offer with a facial that provides a deep cleansing and the resurfacing benefits of microdermabrasion. The Elite Polisher Facial is an upscale, anti-aging treatment designed to create skin that's smooth, toned, and vibrant.
Gentleman's Facial
Our highly skilled aestheticians address concerns such as irritation, in-grown hair, and breakouts. Specially customized for a gentleman's specific skin needs, a deep cleansing is followed by a full skin analysis, steam, exfoliation, and extractions. We conclude the treatment with a tailored mask to balance and hydrate the skin, and then apply sunscreen.
Glow Facial
Sun damage and early signs of aging can be repaired with this facial, which includes deep cleansing and an enzyme mask under steam that primes the skin for extractions. A Glow Facial also includes a mild chemical peel, which can help accelerate the renewal of skin cells and break down impurities and sebum. It concludes with a soothing mask that your aesthetician applies so that your face appears more radiant and visibly brighter.
Radiance Facial
Clogged pores are no match for this facial, which features deep cleansing and exfoliation under steam, preparing the skin for extractions. Additionally, your aesthetician massages the skin, using a serum rich in antioxidants to create a luminous appearance. The facial concludes with the aesthetician applying a customized mask to calm and soothe the skin, so you leave our spa with a relaxed, healthy glow.
Refresher Facial
Your skin feels softer and refreshed after getting our Refresher Facial, which is tailored for anyone who maintains a consistent skin care regimen and who doesn't need extractions. The refresher deeply cleanses your skin and your provider applies a mask customized for your skin type.
RF Acne Photo Facial
This deep-cleansing facial cleanses and exfoliates the skin by using natural botanicals and steam. We perform extractions and add a customized mask to balance the skin. Radiofrequency energy is based on high-frequency radio waves that heat the dermis and the skin's collagen fibers, causing them to contract and reduce bacteria beneath the skin's surface. This also helps with calming down the inflammation from extractions.
RF Tightening Photo Facial
Pulses of light penetrate the layers of the skin to smooth wrinkles, boost collagen production and help with the treatment of brown spots and fine lines. This facial offers customizable features that provide the patient with optimal results. In addition to the light treatment, this facial includes deep cleansing, exfoliation, extractions, and a customized mask.
Teen Facial
Teens face unique challenges when it comes to their skin. Acne and clogged pores are common issues, and this facial is designed to minimize those conditions. A teen facial deeply cleanses and exfoliates the skin using natural botanicals and steam. After performing extractions, the aesthetician applies a customized treatment masque to re-hydrate the skin.
If you're interested in facials or another of our medical spa services, request a consultation using the online form or call our office at (585) 272-9346 to schedule an appointment.
Our Aesthetic 'Dream Team'
One of the foundations of our success is the care we take to select qualified, talented, and caring people to provide services and care that exceed the expectations of our med spa clients. Each member of the spa team embodies the core values that DermaSpa is founded upon. They truly enjoy helping you to feel and look your best.
Meet the Dermaspa Team
Back to Top