Dermatology Associates of Rochester
100 White Spruce Boulevard
Rochester, NY 14623
Phone: (585) 272-0700
Fax: (585) 272-8356
Mon–Fri: 8 a.m.–5 p.m.

Dermatology Associates of Rochester

,
Phone: (585) 272-9346
Fax: (585) 272-7592
Mon: 9 a.m.–5 p.m.
Tues, Wed, Thurs: 9 a.m.–7 p.m.
Fri: 9 a.m.–6 p.m.
Sat: 8 a.m.–12:30 p.m.
*Or after last appointment

Dermatology Associates of Rochester

,
Phone: (585) 697-1818
Fax: (585) 697-0822
Mon–Fri: 8 a.m.–5 p.m.

CoolTone™

Our Rochester practice is the first in Upstate New York to offer CoolTone and it's quickly becoming one of our most popular procedures. Developed by the same company that manufactures CoolSculpting®—CoolTone is a nonsurgical treatment that tones the abdomen, thighs, and buttocks by stimulating involuntary muscle contractions. Combining fat reduction with muscle toning, it can create a sculpted, contoured physique that active women and men want.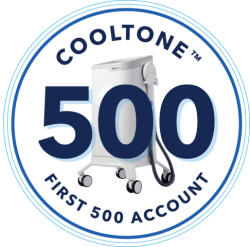 ---
CoolTone Before-and-After Photos
Abodmen
Buttocks
Photos courtesy of Allergan
---
How Does CoolTone Work?
Unlike CoolSculpting, CoolTone targets muscles as a means to burning fat. CoolTone uses magnetic muscle stimulation (MMS), sending pulses of electromagnetic energy into the targeted muscles. This stimulates a rapid succession of muscle contractions which strengthens the muscle fibers. CoolTone, which the FDA cleared in June 2019 for toning muscle, can burn fat because of the number of muscle contractions that occur. During a single CoolTone treatment, which takes about 30 minutes, a patient targeting the abdominal area completes the equivalent of 25,000 sit-ups.
The CoolTone Process
1
By penetrating the skin and fat layers and targeting only the muscle layer with magnetic energy, CoolTone induces involuntary muscle contractions.
2
Similar to what occurs after sit-ups or other muscle-contraction exercises, targeted muscle fibers become stronger and more conditioned.
3
After 2 or more treatments, the abdomen, buttocks, and thighs are firmer and have a more defined and toned appearance.
Who Can Benefit From CoolTone?
Targeted CoolTone treatments are ideal for active women and men who already exercise regularly and follow a balanced diet but who want to tone specific trouble spots, such as the buttocks, thighs, and abdomen. These areas are notorious for resisting even the best efforts to look sculpted.
Combining CoolTone With CoolSculpting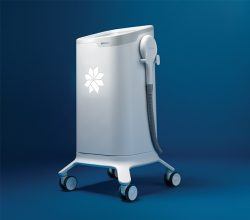 Many of our patients want to lose fat and build muscle during a single appointment, which we can do by combining CoolTone and CoolSculpting procedures. Dermatology Associates of Rochester was the first practice in the area to be designated a certified CoolSculpting practice and we've performed more than 5,000 treatments. Our expertise attracts women and men to our office from throughout Upstate New York, where we were the first practice to provide CoolSculpting treatments.
We also offer nonsurgical skin tightening treatment SkinTyte™, which we can package with CoolTone and CoolSculpting procedures so patients can get a more cost-effective solution than having the treatments performed separately. You can reduce fat, tone muscle, and tighten skin in a single trip to our practice.
What Is Recovery Like?
After a CoolTone treatment, which can take from 30 to 45 minutes if it's not combined with other procedures, you can resume your normal daily activities. You should expect some soreness in the muscles targeted, just as you would after an intense workout. Most CoolTone patients notice results about 2 to 4 weeks after the final treatment session. Improvements continue to be seen for several weeks and follow-up treatments can maintain your results
At Dermatology Associates of Rochester, we have one goal—your results. Request your consultation online or call us at (585) 272-0700 to get started.