Dermatology Associates of Rochester
100 White Spruce Boulevard
Rochester, NY 14623
Phone: (585) 272-0700
Fax: (585) 272-8356
Mon–Fri: 8 a.m.–5 p.m.

Dermatology Associates of Rochester

,
Phone: (585) 272-9346
Fax: (585) 272-7592
Mon: 9 a.m.–5 p.m.
Tues, Wed, Thurs: 9 a.m.–7 p.m.
Fri: 9 a.m.–6 p.m.
Sat: 8 a.m.–12:30 p.m.
*Or after last appointment

Dermatology Associates of Rochester

,
Phone: (585) 697-1818
Fax: (585) 697-0822
Mon–Fri: 8 a.m.–5 p.m.

Sofwave™ Skin Tightening 
Would you like to restore youthful firmness and tone your face and neck without surgery, pain, or downtime? Sofwave is an FDA-cleared treatment that provides skin smoothing and tightening without breaking the skin. At Dermatology Associates of Rochester, we use Sofwave for "prejuvenation" in young adults and rejuvenation in people with mild to moderate wrinkles and laxity.
What Is Sofwave?
Sofwave is a nonsurgical skin tightening treatment that uses ultrasound to increase collagen and elastin production in the skin.
What Are the Benefits?
Safe any time of the year on any skin type and color, Sofwave treatments help women and men reduce and prevent signs of aging. Benefits include:
Softening fine lines and wrinkles
Lifting the brow area
Tightening the jawline, under the chin (submental area), and neck
Other nonsurgical skin tightening options include SkinTyte™. Patients with significant laxity may need a surgical facelift, brow lift, or neck lift.
How Does It Work?
Sofwave releases ultrasound heat energy to create a healing response that remodels and replenishes collagen and elastin in the skin. The heat passes through the skin's surface harmlessly and penetrates to a precise depth of 1.5mm, deep enough to treat wrinkles but not deep enough to harm the underlying fat and muscle.
What Can I Expect During a Sofwave Treatment?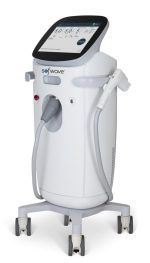 We perform Sofwave as an office treatment. It typically takes 30 to 45 minutes to treat the face and neck. First, the provider applies numbing cream, then cleanses the skin when it's numb, and applies a conductive gel. The provider performs the treatment by placing the Sofwave handpiece on the skin. The warmth gradually increases as heat energy is released in 6 to 7-second pulses of energy.
Does It Hurt?
The Sofwave system has an integrated cooling system, Sofcool™, that chills and protects the skin to minimize discomfort. While there may be minimal discomfort when passing over the brow or jawline, Sofwave is more comfortable, faster, and safer than Ultherapy®.
What Is the Recovery Time for Sofwave?
Sofwave requires no recovery time; patients can return to their normal daily activities immediately. There may be mild swelling in treated areas.
How Long Does It Take To See Results From Sofwave?
Treated areas gradually become firmer, smoother, and tighter as collagen develops. Patients may notice improvement as early as a week after treatment that peaks within 3 to 6 months.
How Many Treatments Are Needed?
A single treatment once a year is all that most patients need for impressive results. Sometimes, a second treatment is required.
People visit us for nonsurgical skin tightening with Sofwave from Brighton, Irondequoit, and throughout the Rochester, NY, metropolitan area because they trust the expertise of Dermatology Associates of Rochester's providers. Request a consultation using the online form to meet with one of our physicians or call us at  (585) 272-0700 to schedule an appointment.