Dermatology Associates of Rochester
100 White Spruce Boulevard
Rochester, NY 14623
Phone: (585) 272-0700
Fax: (585) 272-8356
Mon–Fri: 8 a.m.–5 p.m.

Nail Services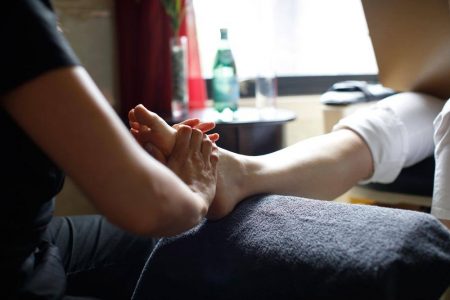 We offer a complete menu of nail treatments including paraffin treatments, wraps, acrylic, gel and more. Our approach to nail care is rooted in our dermatology knowledge and specialty in identifying and treating nail disorders.
MANICURES
Choose from a wide variety of polish options including acrylic, regular polish, and gel.
Hot Oil Manicure: Enjoy our relaxing private suite where hands are soaked in warm oil to hydrate skin and cuticles. Add a paraffin treatment to lock in added moisture. Nails are shaped, followed by a hand massage. Finish with a perfect polish if desired.
Gentleman's Manicure: This invigorating men's treatment begins with soaking the hands in warm oil to hydrate skin and cuticles. Nails and cuticles are then trimmed, followed by a relaxing hand massage, topped off with clear nail coat if desired.
Gel Manicure: This manicure is made to last 7 to 14 days with no smudges or chipping.
PEDICURES
A soothing and enjoyable experience for your feet. Whichever treatment you choose, you will leave with your nails trimmed, filed, buffed and polished if desired.
Signature Pedicure: Sit and soothe your feet in one of our jet- powered aromatic whirlpools. Enjoy a chair massage as our technicians exfoliate your feet, ankles and legs, while receiving a customized foot mask.
Hot Stone Pedicure: Enjoy all of the benefits of our Signature Pedicure in addition to the use of hot stones. Our technicians will place heated stones on top of and underneath your feet. The heat from the stones will relax your muscles and stimulates pressure points in your feet.
Gel Pedicure: This pedicure is made to last 7 to 14 days with no smudges or chipping.
Our Aesthetic 'Dream Team'
One of the foundations of our success is the care we take to select qualified, talented, and caring people to provide services and care that exceed the expectations of our med spa clients. Each member of the spa team embodies the core values that DermaSpa is founded upon. They truly enjoy helping you to feel and look your best.
Meet the Dermaspa Team
Back to Top