New season, new palette, new colors, and new skin concerns. As the seasons change, so should your skin care focus. Remove the damage caused by the summer sun and start with a fresh face, and zero imperfections. We gathered experts across each of our teams and got them together to talk about how to undo the damage of the summer sun, how changes in the weather affect your skin each day, and the leading fall makeup trends this season.
Summer days, drifting away
But oh, those harmful rays. Your skin has been in the summer sun for a few months, soaking up Vitamin D, but also harmful rays. What do you do to treat sun spots or discoloration caused by the sun? There are a few options:
Chemical peels: a non-invasive method of rejuvenating the appearance of fine lines, wrinkles, and uneven pigmentation. This treatment removes old skin cells and allows the growth and production of new skin cells, giving you a youthful glow and tighter skin.
Microdermabrasion: micro-crystals are used to remove the most superficial layer of dead skin cells. This addresses not only irregularities, but also fine lines and wrinkles. This procedure is a great way to remove old skin cells and product build-up for a fresh face.
Photorejuvenation: This treatment is ideal for skin conditions associates with sun damage, active lifestyles, and aging. Broadband light treats age and sunspots, small facial veins, and other imperfections on the surface. Photorejuvenation can be used for sun or aging spots on the face, and hands.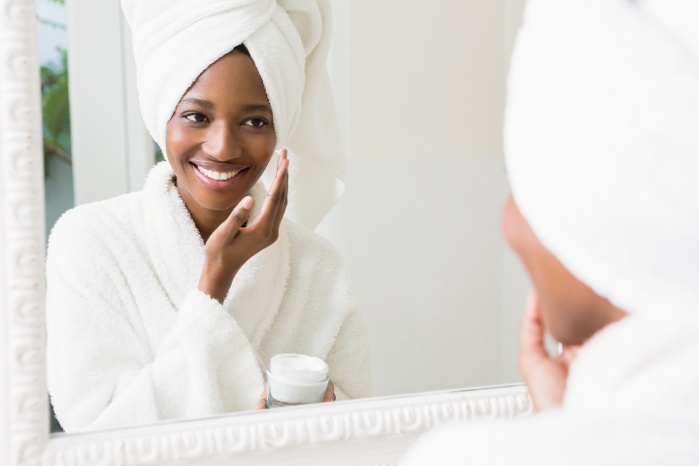 Does your daily skin care routine need a change?
If the treatments mentioned above aren't in your wheelhouse, consider incorporating an exfoliating cleanser into your routine. The AgeDefy Exfoliating and Resurfacing Cleanser combines alpha and beta-hydroxyl acids to remove dead skin cells and other impurities from your skin to illuminate your complexion. Botanical extracts even your skin tone and sooth inflammation.
Fall weather is the prelude to the dry winter months, and your skin desperately needs moisture. Consider the Biopelle Advanced Cream Moisturizer, penetrating deeply into the skin for renewed tone and texture. Incorporate a moisturizer with growth factors or antioxidants that provide benefit in addition to just moisturizing agents.
Think it's safe to put away your sunscreen? Think again. Just because the temperature isn't reaching summertime-highs, does not mean the sun's UVA/UVB rays are not harmful to your skin. EltaMD offers a number of daily, facial sunscreen options that are light on the pores, yet effective. Meet with the DermaSpa team and learn more about sheer and tinted facial sunscreen options. Don't compound the sun's damage from the summer months by neglecting your skin during the fall and winter.
Understand the signs of extreme dry skin
It's not abnormal for our hands, elbows, or legs to experience dry skin as the weather changes. When choosing a full-body moisturizer, pay less attention to the scent, but more attention to the active moisturizing ingredients and effectiveness. Our team can help in choosing an effective moisturizer and soothing therapy. Ask about our new line, FarmHouse Fresh, moisturizers and other products that are organic and cruelty-free.
Extreme dry skin requires the help of a dermatologist, and can be a warning sign of dermatitis or skin inflammation. Intermittent dry skin can be treated by using milder soaps, and regularly moisturizing, but if a rash develops, advanced treatment may be necessary. If you are concerned about extreme dry skin, schedule an appointment with your dermatologist.
Falling for these beauty trends
We recently unveiled the Jane Iredale fall collection, and couldn't be more excited about the fall trends. According to the expert team at Jane Iredale, here are the fall trends to wear this season:
The Naturally Glam Look: Less is more, with a focus on natural-tone eye shadow, soft contouring and a slight rosy glow on your cheeks. Round this look off with a berry-toned, subtle lip.
The Ombre Popsicle Pout: This requires a bit more skill, but watch this video and you'll be a pro in no time. Tools needed include the Just Kissed Lip Plumper, Lip Crayon, and the Lip Pencil.
Look at Me Lips: This may not be a trend per se, as red lips are always classic. But how about making them the focal point of your façade? Pair your vivacious red lip with lighter face makeup and you'll be good to go. Even better: Jane Iredale's PureMoist Lipstick is colorful, long-lasting, and moisturizing! The fall collection Gwen color is ideal for the autumn months with deep reds and a touch of pink.
There you have it, our fall face care tips. Our approach is always restoration, then maintenance. Reversing the damage of the summer sun with restorative treatments, and maintaining the youthful, healthy glow you've just achieved with a robust daily skin care routine. Now that your canvas is perfectly primed, fall makeup trends are perfectly within reach. Get in touch with our team with questions about any of these procedures or products.