Pregnancy and major weight changes can leave a lasting impact on your body, no matter how healthy your lifestyle is. Nonsurgical treatments like CoolSculpting® freeze away small pockets of fat, but oftentimes people want more dramatic results.
Tummy tuck surgery is a very effective way to trim areas that have collected excess fat and skin, but it requires a significant recovery period. Luckily, there is some middle ground, a procedure that offers more dramatic results than CoolSculpting but without the downtime of a traditional tummy tuck. This procedure is the mini tummy tuck.
Many patients are intrigued by this specialized technique that promises noticeable results with far less downtime. But is this less extensive treatment actually worth it? Here's how to tell whether a full or mini tummy tuck is right for you.
When is a tummy tuck a good treatment option?
Tummy tuck surgery defines the waistline by removing unwanted fat and skin. The procedure can be used by both men and women, but it is often used by women who want to reclaim their pre-pregnancy bodies. Overall, a tummy tuck is best for treating problems such as:
Stubborn rolls of skin and fat
A "belly pooch" caused by diastasis recti
Extra tissue around the hips or flanks
You may be a good candidate for tummy tuck surgery if you're in good overall health and at a stable weight. However, tummy tuck surgery is not a weight loss procedure and won't help you "drop some pounds." You should be within 10 to 15 pounds of your goal weight before considering a tummy tuck.
What happens during a traditional tummy tuck?
A tummy tuck is an outpatient procedure typically performed under general anesthetic. The treatment begins with a hip-to-hip incision made below the bikini line. Using this incision, the doctor removes unwanted fat and repairs any weakened abdominal muscles that have become separated. After this is done, excess skin is pulled downward and removed, and the incision is closed with sutures.
You may have to wear a compression garment for a few days after your operation. Recovery time after a traditional tummy tuck is typically around 2 weeks. Most patients can return to work and their regular routines after 10 to 14 days.
What is a mini tummy tuck, and how is it different?
A mini tummy tuck flattens the area directly below the bellybutton. It is useful for tightening excess skin or tissue that has collected around the bikini line. Because of the smaller treatment area and shorter incision, recovery often takes only a little over 1 week. 
A mini tummy tuck is very different from the traditional procedure, as the full version addresses the areas both above and below the bellybutton. Because of the mini tummy tuck's limited treatment area, only a small percentage of patients are good candidates for the less extensive procedure.
In the end, most patients want to improve their entire midsection when undergoing surgery, so they opt for a full tummy tuck.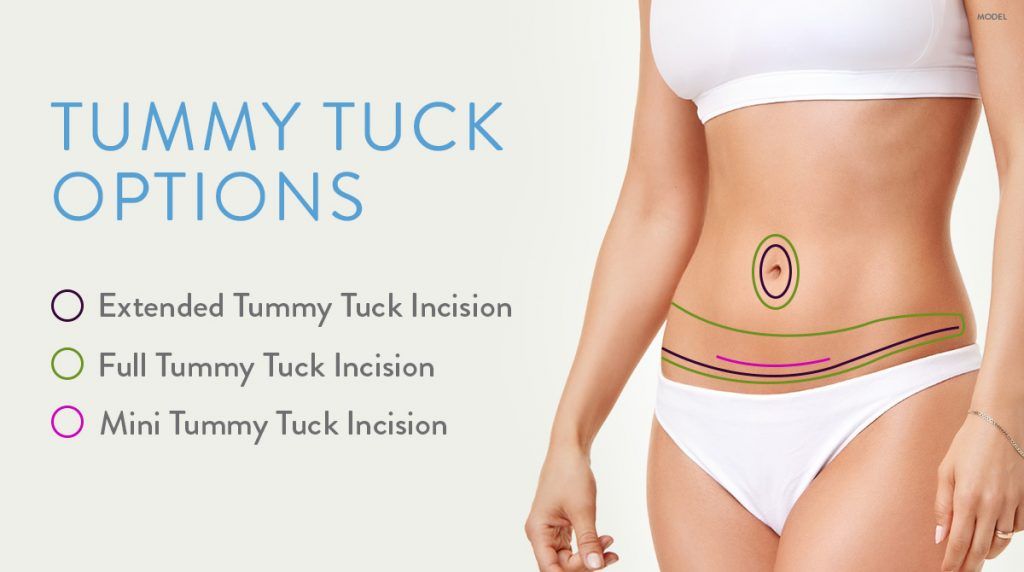 How do I know which tummy tuck technique is right for me?
As mentioned above, both procedures address different types of sagging and bulging around the midsection. The best tummy tuck technique for you depends on your particular needs.
If your main concern is loose skin right by your bikini line, a mini tummy tuck could be an effective option.
If you want to tone a larger area while also correcting separated muscles that create a "belly pooch," you would likely benefit from a traditional tummy tuck.
During your consultation, your doctor will ask questions about your goals and analyze your body structure. Together you will decide on the best treatment plan for contouring the body you've always wanted.
Can I combine a tummy tuck with other procedures?
Yes, a tummy tuck can be easily combined with many different procedures. Moms often use it as part of a mommy makeover, which is a customized suite of body contouring procedures often including:
Liposuction to shrink specific fat deposits and better define the waistline.
Breast augmentation to add volume to breasts and compliment a toned waist by creating an hourglass shape.
When all added together, these procedures produce results that truly transform a patient's appearance.
Full and mini tummy tucks may be slightly different, but they can each create beautiful, long-lasting results. Our practice is proud to offer tummy tucks, CoolSculpting, and other body contouring procedures to our patients. 
How do I get started?
If you would like to learn more about your treatment options, please request a consultation online. You can also contact our practice office by phone at (585) 272-0700.
Whether you're interested in consulting with a plastic surgeon or an experienced dermatologist, our Rochester, NY, practice offers a wide range of cosmetic surgery, cosmetic dermatology, medical dermatology, and DermaSpa services.