Winter can be a warm, cozy time with friends and loved ones, but it has the potential to wreak havoc on your skin. Cold winds and drying heaters strip your face of moisture and leave your complexion looking red and irritated. Lathering on a few more lotions or serums isn't always enough to restore your natural glow. But there's good news: We offer the latest laser treatments, including Halo, at our Rochester, NY, dermatology clinic to repair even the driest, dullest winter skin.
If you're new to laser skin treatments, the vast number of available options may be a little overwhelming. Below we list five of our favorite and most effective laser skin treatments that can help your skin look fresh and smooth all winter long.
Halo™
Halo skin resurfacing is one of the easiest ways to recapture a summertime glow. It reverses years of damage to your skin, including discoloration, uneven skin tone, and sun damage. Halo is a complete skin rejuvenation treatment that improves overall texture and skin reflectivity. It can also be easily combined with other procedures, playing a trusted part in just about any skincare routine.
What It Treats: Discoloration, enlarged pores, fine lines, sun damage, uneven skin tone, and poor texture.
How It Works: A topical anesthetic is placed on the skin to reduce sensation. The Halo handpiece is then rolled over the skin as motion tracking technology monitors the area. You can expect to feel a warm, prickling sensation as the laser activates deeper layers of skin. After treatment, your skin may feel slightly warm for 15 to 30 minutes.
Benefits: Halo is a hybrid fractional laser, combining ablative and non-ablative wavelengths in a single device. As such, it offers the great results of an ablative treatment and the comfort and low downtime of a non-ablative laser.
Your Recovery: Keep your skin protected the first 24 hours after treatment. Your skin will begin to peel over the next 5 to 7 days. Once the peeling is complete, you can enjoy fresh, new skin revealed beneath the surface.
Forever Young BBL™
Dry, irritated skin often ends up highlighting other unwanted imperfections. Wrinkles and spots can feel more noticeable when your face isn't looking its best. In cases like these, Forever Young BBL is a go-to anti-aging treatment for healing your winter skin. It addresses several common concerns, such as brown spots and discoloration, by reinvigorating your cells at the molecular level.
What It Treats: Fine lines, wrinkles, acne, skin firmness, and uneven texture.
How It Works: Forever Young BBL uses infrared light technology to penetrate deep into your skin. This light warms the deeper layers of the dermis and encourages collagen production. This new collagen naturally restores your face and helps your skin look more youthful and vibrant. One session lasts around 30 minutes and will give you a temporary "flushed" appearance.
Benefits: Forever Young BBL is one of the most potent IPL devices available, and it's known for providing consistently excellent results. The laser device also works more quickly than most other IPL devices, so you get great results with a short treatment time.
Your Recovery: There is no required downtime, so you can return to work or home right away. You can begin to see results in as little as one week, and your skin texture will continue to improve over the next several months.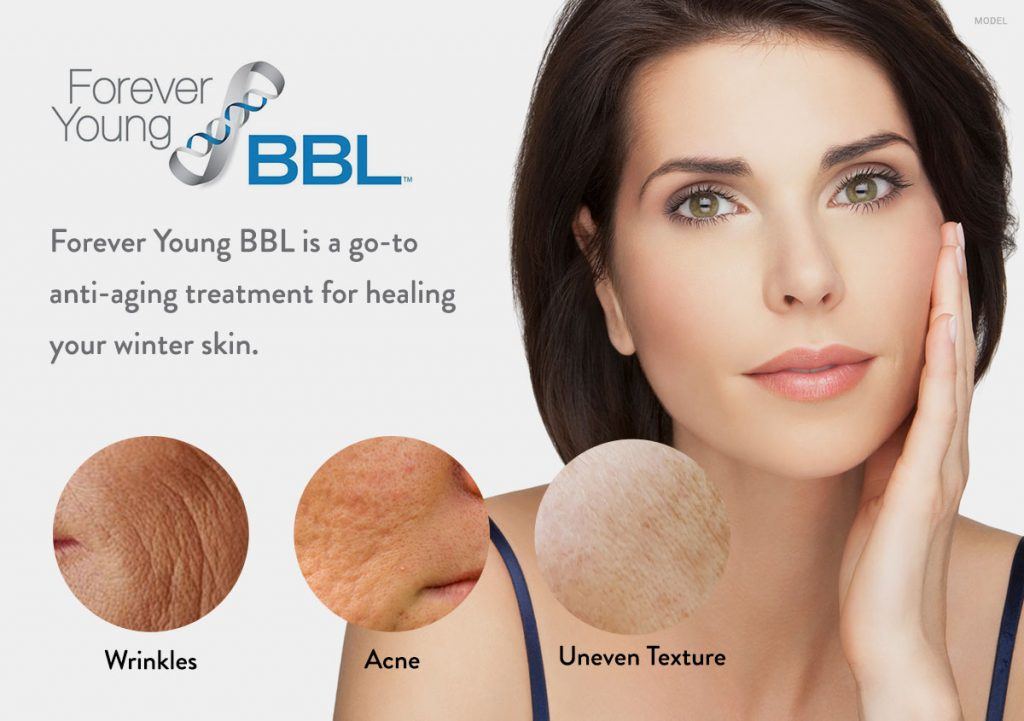 PicoWay®
PicoWay was first created for laser tattoo removal, but it's now a quick, effective way to help your skin too. This specialized treatment corrects excess pigmentation and creates a smooth, evenly colored complexion. Our practice uses different PicoWay handpieces and laser wavelengths to customize each treatment to your needs. PicoWay is safe on most skin types and can be used on many parts of the body.
What It Treats: Age spots, sun spots, freckles, acne scars, and wrinkles.
How It Works: The PicoWay laser uses ultrashort pulses of energy to target areas of pigmentation. As the laser energy passes harmlessly through the skin, it breaks up the pigment into small particles that can be flushed out by the body. The laser also increases collagen production, which "fills in" divots created by wrinkles and acne scars. Most patients experience low to no discomfort because the laser pulses are so rapid.
Benefits: Because there is little to no recovery time needed after a PicoWay treatment, you can easily fit the procedure into your schedule without worrying about taking time off work. It's also versatile and so effective that it earns a 100% Worth It rating on RealSelf.
Your Recovery: Most treatments require no downtime, and you can immediately return to your daily activities. You may experience mild skin redness that lasts approximately 8 to 36 hours.
Contour TRL™
Harsh winter weather can wear down your skin and leave it vulnerable to further damage. Contour TRL is a skin rejuvenation treatment that improves the skin's thickness and resilience, giving it the support it needs. Contour TRL is a unique procedure that your doctor can customize to precisely control the depth of the treatment. It is primarily used to treat the face and the neck, but it can be used on other parts of the body as well.
What It Treats: Sun damage, deep wrinkles, scars, and poor skin tone and texture.
How It Works: Shallow treatments require only a topical anesthetic, but deeper treatments may need an injection of a local anesthetic. As the laser meets the skin, it triggers the body's natural healing response, which prompts the growth of new healthy skin cells. These new cells give the skin a more youthful, rejuvenated appearance. Treatment sessions typically last around 15 to 30 minutes.
Benefits: Contour TRL's versatility and tunable ablation and coagulation controls are some of its strongest advantages. Because your provider can customize the depth of ablation, you'll get exactly the treatment your skin needs.
Your Recovery: Recovery time depends on the depth of your particular treatment, but most patients need 7 to 10 days of healing. It takes around a week to see improvements in skin tone and texture. Those who receive deeper laser treatments may see continued improvement over the next 4 to 6 months.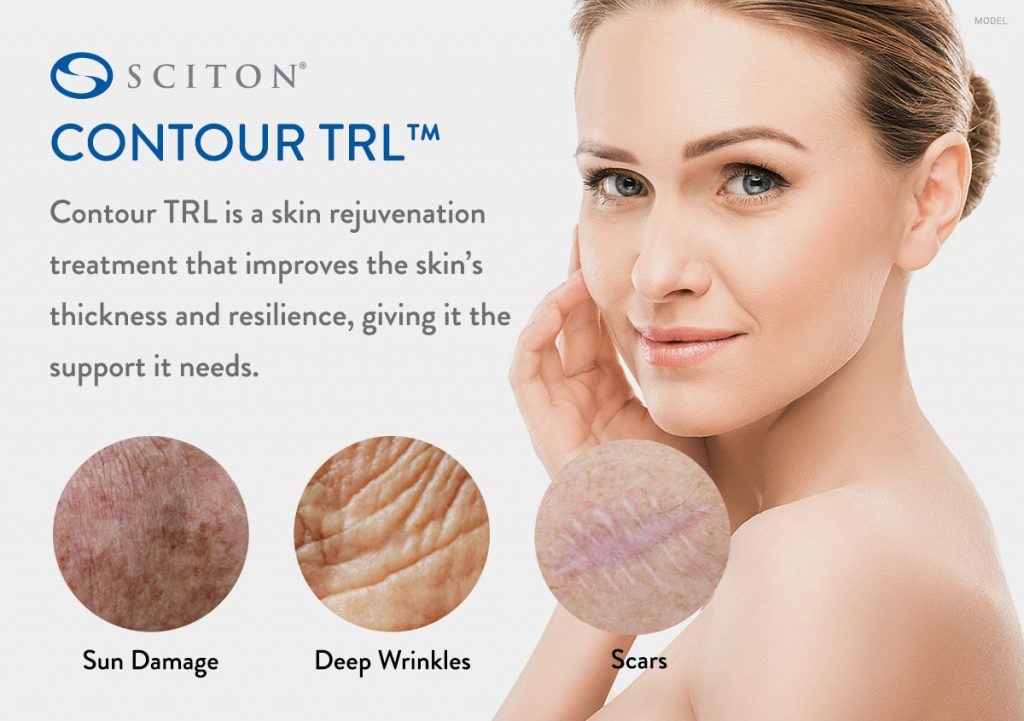 ProFractional™
Skin concerns are often a "package deal," and you may struggle with multiple problems at once. ProFractional laser therapy is a popular way to fix many issues in a single, easy session. From wrinkles to sun spots, a range of skin conditions can be addressed with this trusted treatment. It is also often combined with other laser treatments (such as Halo) to create comprehensive results.
What It Treats: Wrinkles, fine lines, scars, acne marks, age spots, sun spots, freckles, and sun damage.
How It Works: Your provider will give you a topical cream to numb the treatment area. The ProFractional laser is then used to create thousands of microscopic channels in the skin. These prompt the body's natural response to heal its wounds, which in turn stimulates new collagen production. The new collagen creates smoother, softer skin that can be enjoyed for many months to come.
Benefits: The area surrounding the treated microscopic channels remains untouched, so healing is quick. ProFractional's ability to treat a variety of skin issues is also a plus.
Your Recovery: Your skin will be most sensitive the first few days after treatment and feel red and swollen. Keep your skin moisturized following treatment, and you should be able to wear makeup again after a week. You will notice improved skin texture once the redness has faded, and your results will develop over the next several months.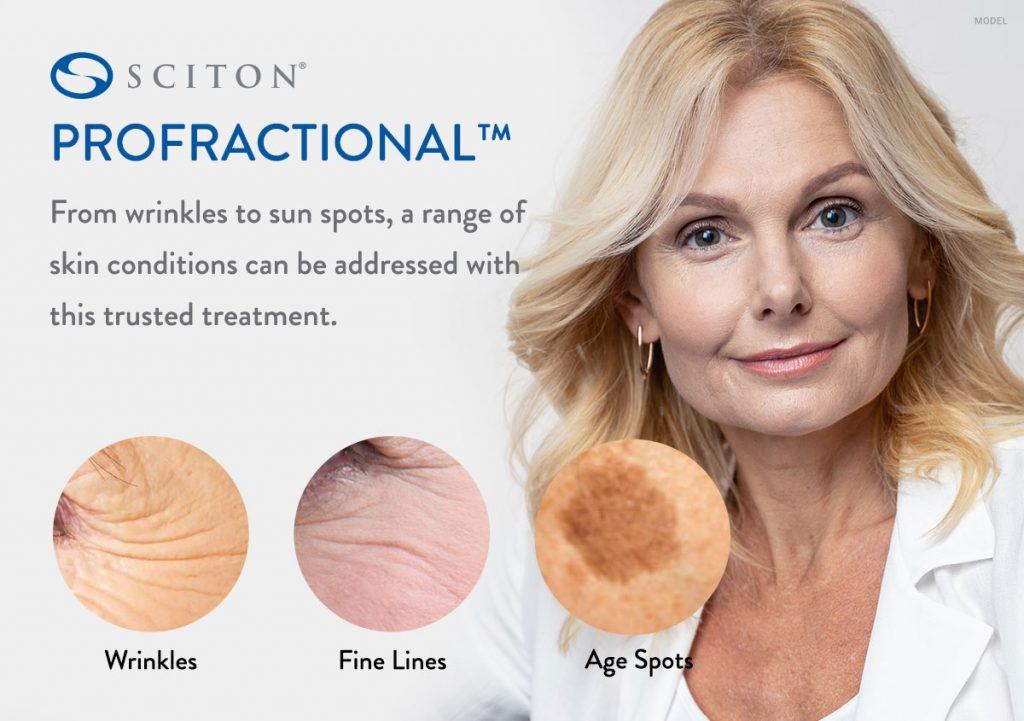 Each of these 5 popular lasers creates beautiful, long-lasting results. By giving your winter skin the jumpstart it needs, you can enjoy a radiant face all year long.
If you would like to learn more about lasers and other skin rejuvenation treatments, request a consultation at our Rochester dermatology clinic. You can also contact our office by phone at (585) 272-0700.