Your skin's role is to protect you from the elements, so skin health and wellness is essential to not only keeping a youthful, beautiful glow but keeping you protected. When we say the elements, we mean more than the sun and wind, we mean polluted air, sweat, and oils that can build up on the skin's surface. So, listen up, these are the top tips to protect your skin, and look good doing it!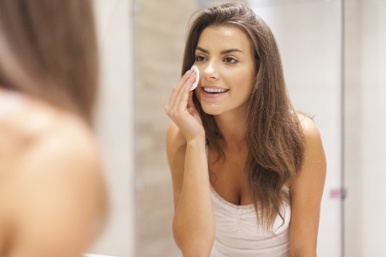 Daily Cleansing Routine. Be mindful of over-exfoliating or over-cleansing, as each of these can cause skin irritation. Some of your skin's natural oils are beneficial, so be careful not to strip them entirely by exfoliating constantly. Your daily cleansing routine should not be as intense as a facial, as these are designed to decongest clogged pores, remove impurities and hydrate deep into your skin. You don't need to have sensitive or acne-prone skin to seek a recommendation from our team.
Sunscreen is Always Important. You had to guess that we would include this. Good news, it's easier than you think to incorporate SPF into your makeup routine. Begin with a SPF-rich, lightweight moisturizer to hydrate and protect your skin. We recommend Jane Iredale – DreamTint. Also in the Jane Iredale line are many primers, foundations, and mineral powders with an SPF value. So as you layer in your routine, make sure you're incorporating products that will protect you.
Know what you're working with. Do you have a good snapshot of your skin type? Don't just guess. Products like VISIA® Complexion Analysis provide high-quality facial images that report on the health of your complexion. The analysis captures eight areas: spots, wrinkles, textures, pores, UV spots, brown spots, red areas, and porphyrins (think: bacteria on the skin, yikes). Get a 100% personalized report of your complexion, and work with our team to get a tailored skin care routine recommendation.
Why is it important to hydrate your skin? If you feel like "staying hydrated" is a top tip in every beauty blog you read, that's because it is so important that it can't be over-emphasized. Drinking water is essential for your body's overall health, but the world sees the effect of hydration on your skin. Staying hydrated keeps your skin glowing and visibly brighter. In addition to actual water, hydrate with a hydration spray (we recommend D2O or Balance by Jane Iredale). These products, applied post-makeup, help set your makeup, and balance the oils in your skin. They also contain antioxidants that can help fight against the risks of sun exposure.
Trust your skin to the professionals. Although we warn against over-cleansing and over-exfoliating, our DermaSpa team can customize a skincare treatment plan and daily at-home skincare regimen to help your skin be healthy and beatiful.
We believe your body's health is important, inside and out. The important thing to remember is, if you treat your skin well, it will return the favor! Your complexion is as unique as your fingerprint, so if you have oily, combination, dry, acne-prone, aging or normal skin, meet with our skin care and makeup experts. We'll teach you how to protect your skin and look good doing it!
Ask us about our Jane Iredale® makeup line and VISIA® Complexion Analysis!