If the idea of a laser therapy gives you some hesitation, you are absolutely not alone. But let us also say that you will soon join the hundreds of patients in our office that had cosmetic laser therapy and loved the comfortable, long-lasting results. Ever wonder 'what is laser therapy for?' Lasers effectively treat a variety of blemishes, skin pigmentation, and remove unwanted hair. They can reverse the signs of aging and revitalize your skin's surface. For everything you need to know, keep reading.
Who performs the procedure is very important.
We think this kind of goes without saying, but it's essential that you schedule a consultation with a Board-Certified Dermatology Physician-led team of professionals that have a proven track record of performing this type of treatment. Our equipment doesn't do all the work, it also requires a trained professional operator to make sure you receive the desired results. Trust your laser therapy with the largest cosmetic dermatology practice in Rochester.
It's important to understand how cosmetic laser therapy works.
We are in the business of customized treatment plans, and educating you on services and treatments that help you achieve desired results. That being said, here's a little education on how a laser works:
Depending on your treatment, laser therapy can focus on pigment, with a goal of heating the skin and absorbing pigment to reduce redness, broken capillaries, rosacea, age spots, etc. Fun fact: This is also how laser tattoo removal works.
Lasers emit high-intensity pulses of light at different wavelengths, allowing us to target lesions of different colors, shapes, and sizes, as well as correct sun damage, fine lines and wrinkles.
It's important to note that prior to resurfacing the skin, only a medically-trained dermatology practitioner can make the diagnoses prior to treatment.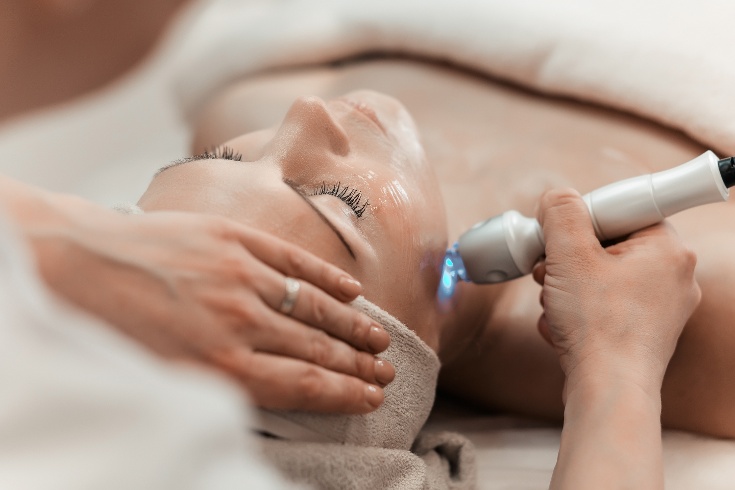 Laser therapy treatment may hurt – or it may not.
The sensation felt during treatment depends on so many factors: the laser, the area of treatment, the depth of the treatment area, and your tolerance for pain. The laser therapy operated in our offices is very surface layer focused, and comfort is our primary goal including the use of prescription-strength numbing creams if necessary.
It's the most effective therapy to achieve these results.
There's no denying it – if you are looking for deep hair removal, pigment reduction, or repairing blemishes, laser therapy is long-lasting and highly effective. Other options are more temporary in their effectiveness and can require repeat treatments, sometimes every other month.
Our approach is two-fold, restoration and maintenance. We first rejuvenate the skin to the youthful glow desired, and then recommend a cadence of maintenance treatments to maintain results. Regular annual appointments, depending on the treatment you received, can ensure that your skin appears the same for years to come.
Other things to know before laser therapy treatment are discussed in your consultation with our team of providers. We discuss your target area, your goals, how many treatments you need to achieve optimum results, and the best method we recommend to achieve those results. There is no one size fits all approach to our services, so a customized treatment plan is a must. Request a consultation with our team, or learn more about laser therapy options.