The double chin is one of the most dreaded signs of weight gain or aging. The double chin can be caused by many things, including diet, family history, or basic body composition, meaning where your body stores water and fat. At the Center for Aesthetics & Anti-Aging, we are thrilled to offer a CoolSculpting® at our Rochester practice. It's a non-invasive, non-surgical treatment to remove unwanted fat beneath the chin.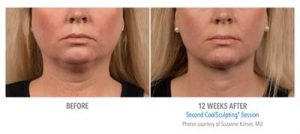 How Does CoolSculpting Work Under the Chin?
The CoolSculpting CoolMini is an FDA-approved non-invasive answer to unwanted submental fat, also known as the double chin. We have been chosen by Zeltiq as 1 of 78 offices in the United States to offer the CoolMini first, and we're thrilled to offer it to our patients.
Backing up a step, how does a double chin even form? The triangle shape beneath your neck is referred to as the submental area. A double chin forms when the subcutaneous sheet of fat around your neck droops and then causes a wrinkle. As we mentioned before, this can happen for a series of reasons, including family history, weight gain, your body's composition and storage tendencies, and simply aging.
The CoolMini applies the same methodology that the CoolSculpting system does: the system targets fat cells beneath the skin's surface and delivers precisely controlled cooling that freezes and eliminates the fat cells. The non-surgical fat reduction procedure for the area under the chin is approximately 60 minutes long, and according to a past patient, is "really comfortable." You can read more about how CoolSculpting and other procedures can help you look younger without surgery in this related blog post.
CoolSculpting vs. Kybella® and Other Treatments
There are several other options for addressing a double chin. Liposuction is one alternative, but because it is a surgical procedure, it can require much more downtime and pain than CoolSculpting.
Another option is Kybella, an FDA-approved treatment that involves injections of deoxycholic acid into the submental area. Your body naturally produces deoxycholic acid to break down fats in the food you eat. When injected into submental fat, Kybella dissolves the subcutaneous fat that contributes to the appearance of a double chin. We sometimes recommend using Kybella in concert with CoolMini treatments to further define your jawline and chin area. Your provider will determine the best combination of treatments for you at your consultation.
There are some reasons to prefer CoolMini over Kybella alone, however. The results from the first 700 CoolMini procedures look incredible. Not only does the CoolMini avoid invasive chemical injections, but it produces better results in less time than injection treatments. The CoolMini can also be applied to tough-to-treat areas, including unwanted fat around the knees and underarms.
A consultation is required prior to scheduling treatment. Get in touch with our expert team online to schedule your free consultation or call us at (585) 272-0700 to book an appointment.