Our summer time glows have faded, and our nourished skin is losing its luster. Winter brings dry air, cold temperatures, high winds and those elements do a number on our skin, hair, and nails. Even escaping the outdoors doesn't mean the battle is over – central heat indoors and scalding hot showers can strip moisture from our pores and hair, leaving us dried out, static-filled, and even itchy. We've got tips from across our teams on how to avoid dry, itchy winter skin, and how to treat it.
What Not To Do
Piping hot showers seem like a good idea when it's freezing and blustering outside. But those hot water temps can dry out your skin, stripping it of natural oils that are essential to staying hydrated and protected. This rule doesn't just apply to your showers – remember to use lukewarm water when washing your hands and face, too.
Don't keep the same moisturizing routine you had in the summer months. You need to step up your game. It's best to moisturize within minutes of stepping out of the shower to lock in the moisture and increase the likelihood that it stays all day. If you think your face care routine could use some help, get back on the right track.
Don't skip your facials, exfoliating routine, and microdermabrasion. Just because you feel dried out doesn't mean you shouldn't get rid of dead skin cells. Your facial regimen should be changed in the winter months. Be careful not to over-irritate, but moisture can't penetrate dead skin accumulation. Exfoliation is an integral part of effective moisturizing.
Don't underestimate severe dry skin. Skin conditions like psoriasis, eczema, and rosacea are common in the winter months. Your chance of a flare up of these conditions are linked with immune system responses, and high stress, among other factors. Who hasn't had a cold in the winter time and hasn't been stressed around the holidays? Get in touch with our team and schedule a consultation if your dry skin has become extreme.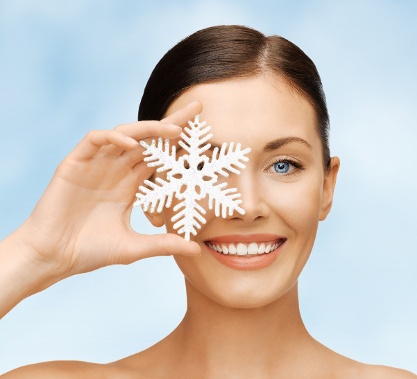 What To Do
Take stock of your shower supplies and beauty cabinet. If you feel your skin drying out, be mindful about harsh products and begin the search for products ideal for dry, sensitive skin, with extra moisturizing benefits. Pay less attention to scent, but more attention to the active moisturizing ingredients and effectiveness. Good news at DermaSpa, you don't need to choose between effective moisturizers and great scents with our new FarmHouse Fresh line.
Stay hydrated on the inside, as much as on the outside! We know, hydration is mentioned in every beauty blog you read, but that's because it can't be over-emphasized. Drinking water keeps your skin glowing and visibly brighter.
Care for your dry hands and feet! Carry a small bottle of moisturizing hand cream in your bag so it is easily accessible after your wash your hands throughout the day. Check out our new line, FarmHouse Fresh for the BEST hand creams. Just because it's not sandal season doesn't mean your feet should hibernate until April. A proper pedicure, and continued moisturizer on your heels especially will keep feet sandal-ready.
The biggest item you can add to your to-do list in the fight against winter skin is talk to the experts. Your skin care routine is as individual as your fingerprint, and the DermaSpa team can help advise you on what products are best for your skin type, the items should and shouldn't be in your routine, and the most effective products you need in your lineup without sacrificing incredible scents.
To get in touch with our medical dermatology team to discuss extreme dry skin, psoriasis, eczema, or rosacea, click below.
Schedule Your Appointment Today!
To talk with the DermaSpa team, call us at (585) 272-9346. You can also browse our products online at www.mydermasparochester.com, or better yet, stop by and chat in person!