Many of the women and men who come in for facelift consultations at our Rochester, New York, practice have spent months—in some cases, years—thinking about getting the procedure. Patients who believe their jowls, sagging skin, and wrinkles make them appear older than they feel and want a more youthful look. But they often express reservations about the recovery following facelift surgery.
Dr. Calvin Young's facelift patients are often pleasantly surprised that healing after the surgery is quicker and more comfortable than they expected. If you're considering a facelift, it's helpful to know what to expect after the procedure. That's why we created a week-by-week summary of what typically occurs during the healing process.
Facelift Recovery Time
Here's a guide to the first 30 days after getting a facelift, starting with the day of surgery:
Returning Home After Surgery
Facelift surgery is an outpatient procedure, meaning patients return home on the day of surgery. Dr. Young performs facelifts using a general anesthetic, so patients tend to feel groggy and unsteady when they awaken after the procedure.
Going Home: You'll need someone to drive you home after surgery and stay with you during the first night of recovery.
Postsurgical Instructions: We provide detailed recovery instructions that you should follow closely to minimize the risk of complications and ensure the healing process goes as smoothly as possible.
Pain: Prescription pain medication (which you should obtain before your surgery) can help you remain comfortable during the first few days of recovery.
Week 1
Rest and Movement: Getting plenty of rest is an essential part of a fast recovery. Even as you begin feeling like your normal self, it's important to limit your activity. Having said that, we also want you to get up regularly and take short walks around your home to enhance your circulation. Light movement promotes the healing process, but you should refrain from lifting heavy items or doing anything strenuous.
Follow-up Appointment: We schedule a follow-up appointment during the first week after surgery, so we can check swelling and your incisions and remove or change your surgical dressings.
Swelling: Swelling and bruising peak after about 3 to 4 days. Sleeping with your head elevated helps reduce swelling.
Week 2
Swelling: Lingering swelling and bruising are normal throughout the second week of recovery. Sensations of tightness, numbness, and tingling are also common after a facelift and shouldn't cause concern.
Activity: Near the end of week 2, many patients start to feel they're ready for their regular daily activities, including taking longer walks around the neighborhood.
Results: It's important to be patient if you're anxious about seeing the final results. The new, more youthful contours of your face won't be fully revealed until the swelling goes down significantly. But it's worth the wait!
Weeks 3 and 4
Return to Work: Most people are ready to return to work at the beginning of the third week following surgery. If you have a physically demanding job, we recommend taking a bit more time off.
Swelling: Residual swelling and tightness are still expected at this point, but you'll start to see the changes in your appearance created by the surgery.
Exercise: You can resume light exercise during these weeks but should postpone more strenuous workouts until after 30 days post-op.
Appearance: Few people will notice any signs of the surgery by now, even if you don't wear makeup.
30 Days and Beyond
Activities: You'll likely be back in your daily routine and enjoying going out to dinner or getting together with friends.
Swelling: Minor swelling and bruising, along with tightness and numbness, may persist for a few more months, but otherwise, there will be virtually no signs of surgery.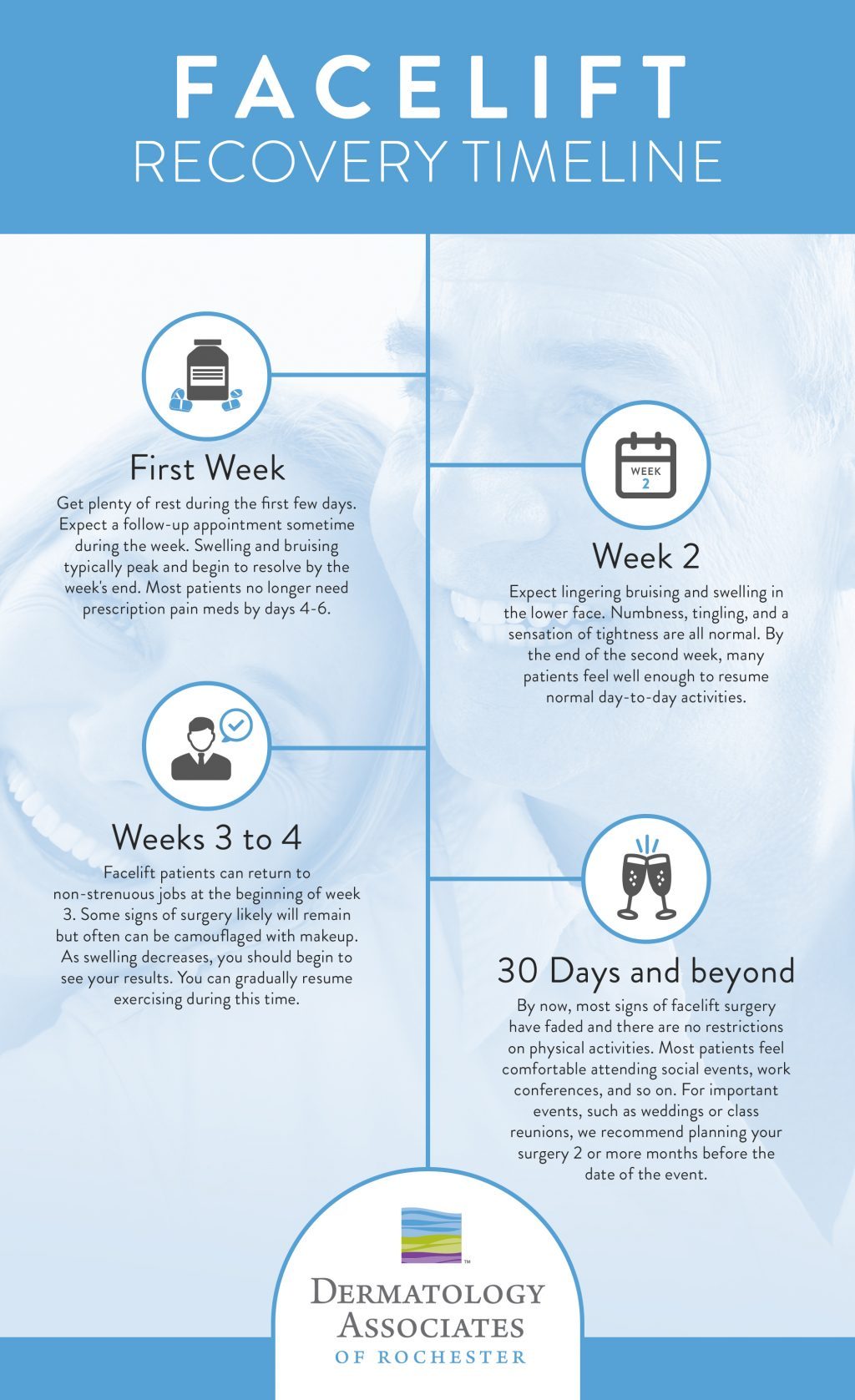 Physical Downtime vs. Social Downtime
Unlike cosmetic surgery that involves the body, facial plastic surgery recovery is unique because the face is something people always see. That's why we sometimes discuss social downtime as distinct from the physical facelift recovery timeline described in this blog post.
Social downtime depends mainly on a patient's comfort level with being in social situations after a facelift. Some people may be a bit hesitant to see friends and family immediately after their procedure. Discoloration or bruises can linger, even after you start feeling more physically comfortable.
Timing Your Surgery
If you're planning to attend a significant social event, such as a wedding or class reunion, we recommend scheduling your facelift at least 6 weeks before the date of the event. Building in additional recovery time is always a benefit in case you heal more slowly than expected or experience complications. Incisions and scars—which are concealed by the ears and hairline—continue fading over time until they're barely perceptible.
If you're considering getting a facelift for a special event, it's a good idea to start the process of scheduling consultations and the surgery. You'll want to look your very best for the big day—and every day after that.
Get Started
If you would like to learn more about facelift surgery—and whether you should combine it with a neck lift—you can request a consultation using the online form. You can also contact our practice by calling (585) 272-0700.